I think from what I have been reading that we will have a headache between the fans going into season 10. It brings me back to Sam not looking for Dean and how all this turns around going into season 10. Sam didn't look for Dean and Dean was upset of this fact that Sam didn't even bother. This season when Dean is finally cured and Sam obviously succeeds in saving his brother, Dean apparently is upset about the things he did when he was a demon because this wasn't him. So he feels he isn't responsible for what Demon Dean got up to whilst painting the town red. But the coin flips this time that Dean isn't upset about Sam not saving him, but how Sam goes about saving him. What lengths Sam goes to in order to get Dean back. So can Sam win? Sam is in the wrong for not saving him at the start of season 8 but now Dean is mad as a march hare for what Sam does in trying.
So what can we assume Sam does that really messes with Dean's head so badly that he will presumably have a hard time in forgiving Sam. Once again these brothers will be at odds. The angst will feel just as bad, and just as severe as Sam was over Dean with the possession. Dean went into this with an open mind, he took on the Mark willingly and took on what came with it willingly. So now that Sam does try his best to save Dean, he is as mad as hell, why? Does he have the right to be mad when he took on the black magic himself? The writers really loving toying with us fans, thinking one minute this season the boys would finally be on the same page, and that it was long overdue. How wrong we us brothers fans that this ends up not being the case.
Plots are woven into this show to make us think and for obvious reasons add drama, as otherwise as I've said on many occasion it would be as boring as hell. But are the writers slowly running out of material and this is the best they can come up with having either brother at odds with each other alternating it each season thinking we hadn't noticed. Will this make the division in the fandom even harder to bear, not knowing which side to bat for. Whether your a Dean fan, or Sam fan it will shatter us thinking what else can they conjure up to divide the boys even further down a dark disappearing hole. I love this show for the way in which the brothers survive and what they go through. But how much more can they physically take before either brother says I've had enough. After all the core behind this show is the brothers relationship and if this is damaged beyond repair then where does this leave the show?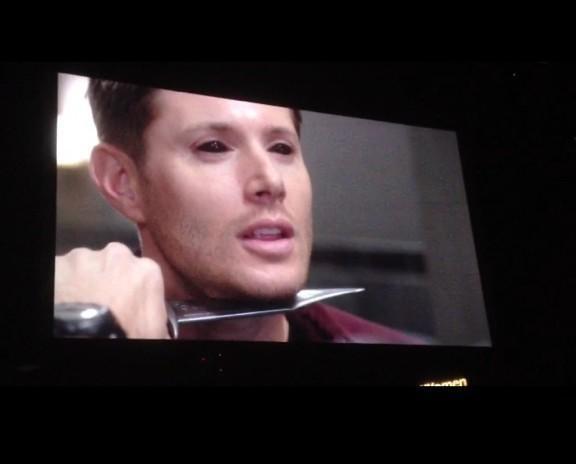 So how do you feel about by the looks of things that the blame may end up back at Sam's door once again. Are the writers finding so hard to invent new stories that this is all we have to look forward to, the brothers constantly bickering and that all love at the end of the day is lost between them forever! I find it sad, that its resulting in yet another heartbreaking feud that won't easily go away.